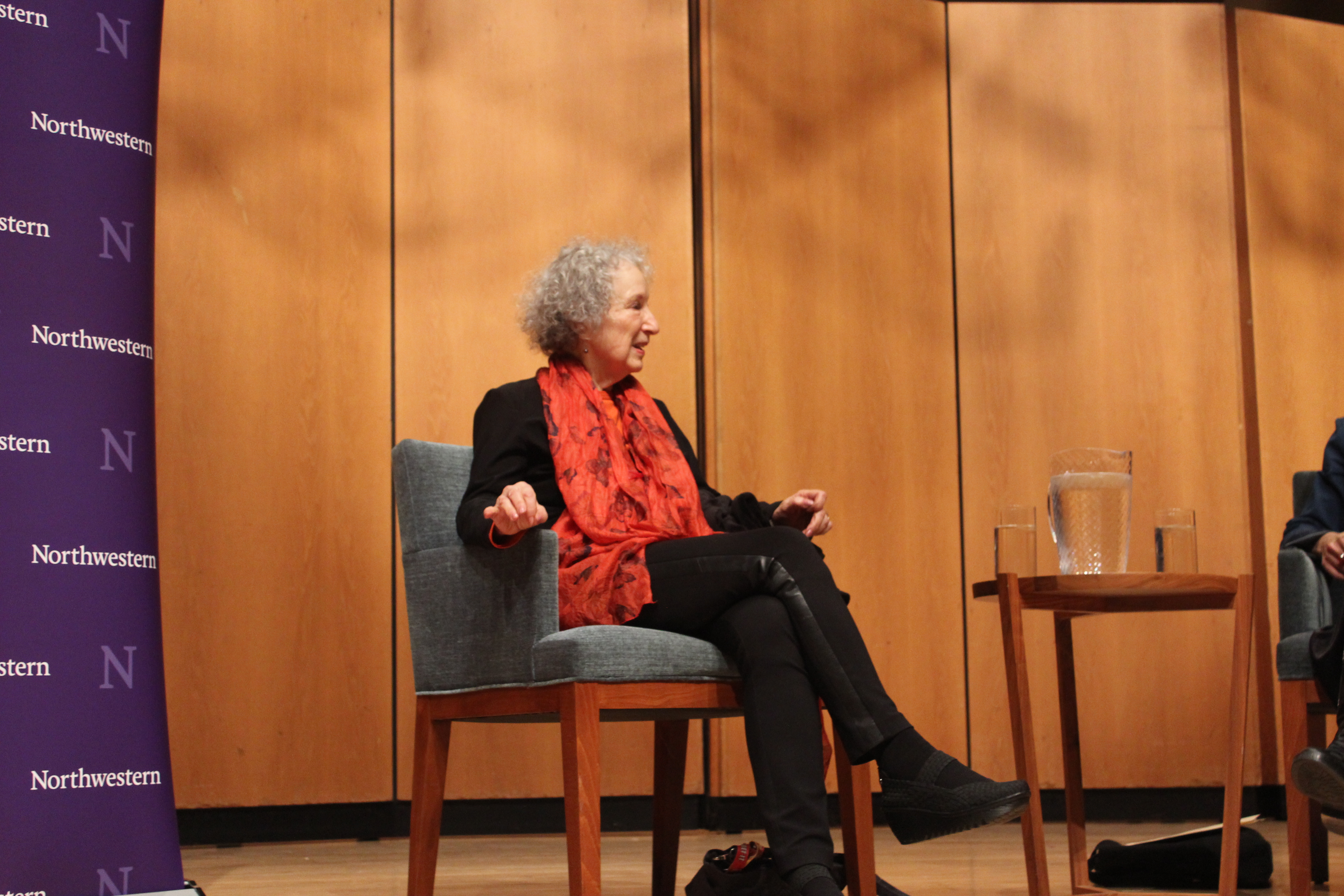 Author Margaret Atwood dropped a bombshell to the crowd assembled for her keynote address Oct. 30: Her best-selling novel The Handmaid's Tale, this year's One Book One Northwestern, may be getting a sequel.
"November the 29th is the big day," she said. "You will know more then."
Atwood fielded questions from One Book faculty chair and English professor Helen Thompson, as well as students, in front of a packed audience at Pick-Staiger. The One Book program chooses a book relevant to current events and centers around it activities and speakers during the school year. The program sends copies of the book to all incoming students the summer immediately before their first year at Northwestern. The Handmaid's Tale is the first One Book in several years to be a work of fiction, and the first to have been made into an Emmy-winning television series.
"I grew up in the 1950s reading a lot of sci-fi, 1984, Brave New World, so I was kind of immersed in that and I secretly wanted to write one," Atwood said. "But they were mostly told by male narrators. I wanted to see what it would be like to flip that around and tell such a story from a female point of view."
Written in 1985, The Handmaid's Tale follows "handmaid" Offred in a dystopian future United States where a totalitarian regime, most notably, subjects fertile women to reproduce to compensate for dwindling population growth.
"When the book was first published, people were less inclined to believe that things would go that way. It was not felt as an immediate possibility as it is currently being felt, not just here, but globally," Atwood said in an interview with student media groups, referencing the 2016 election of Donald Trump, the Brexit referendum and the recent election of Jair Bolsonaro in Brazil.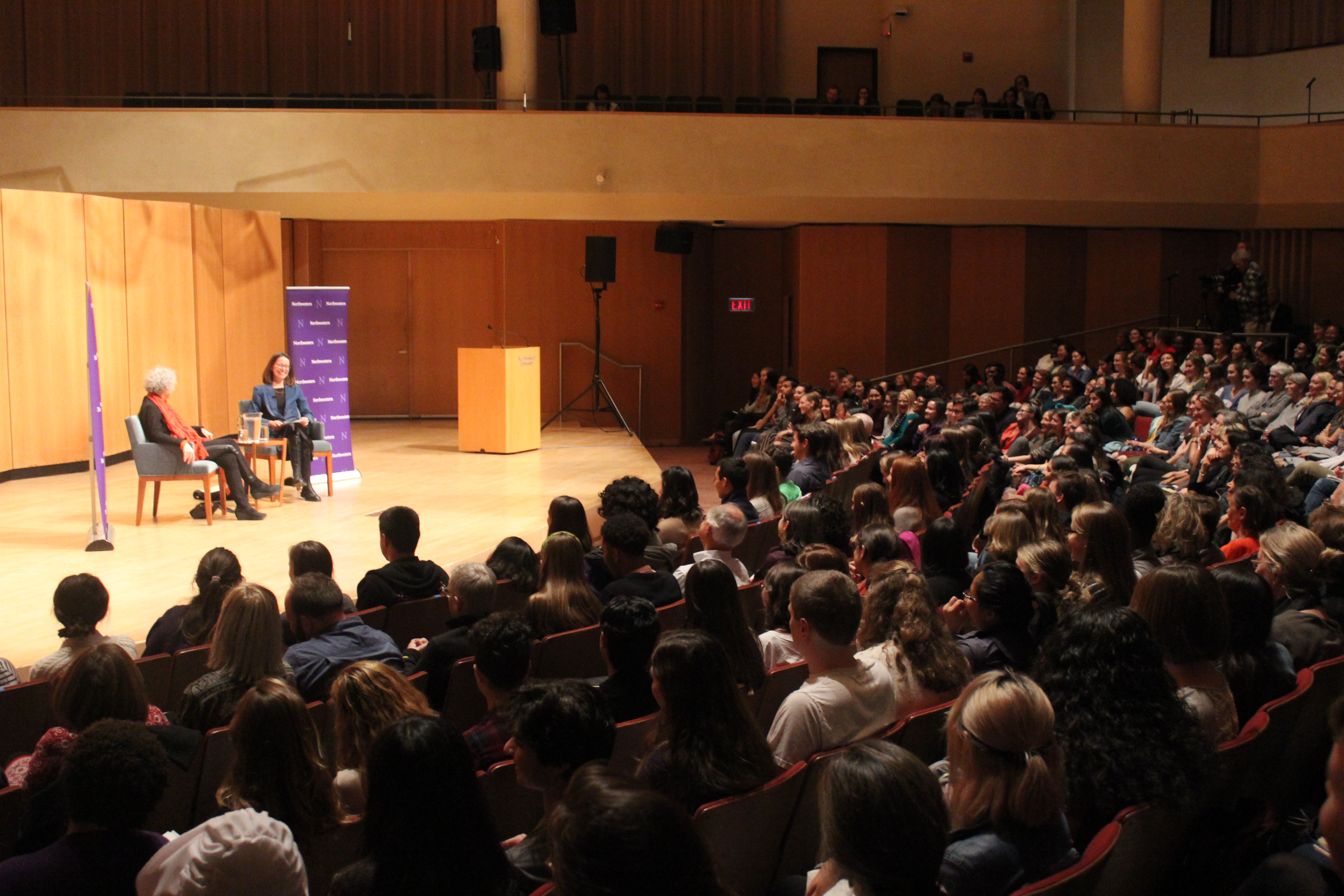 The Handmaid's Tale resonated with many readers because of the similarities they could draw between the novel and current news.
"I think this book was chosen at the correct time, and because of that, I thought it was important that we go see Margaret Atwood speak," Medill freshman Neya Thanikachalam said, adding that she was inspired to watch the TV series after listening to Atwood.
Atwood serves as a consulting producer for the show, though she said she doesn't get much creative control.
"The team is very dedicated and has respected that... nothing can be put in that can't show a precedent in real life. What will happen has [already] happened, somewhere, sometime," she said in the interview. "So there are no ice zombies or dragons, unfortunately. There are no vampire handmaids yet, but it's an idea."
The book and the TV series served as inspiration for the red handmaid outfits frequently seen in protests and even donned by some audience members. Atwood said while there would always be some sort of resistance, she warned of potential circumstances that could lead to passivity.
"Unless the hurricane is blowing the roof off your house, you're thinking, 'That is happening somewhere else; right now, I'm OK,'" Atwood said. "That is, I think, how a lot of people just are forced to live. One of my things that I worry about quite a lot is growing income inequality, because the more that happens, the harder it is for people to actually function in any kind of informed way. They don't have time and energy."
Weinberg senior and One Book ambassador Ryan Varadi said he believed The Handmaid's Tale fulfilled the One Book mission in uniting new students coming from different backgrounds.
"I think it's a great book to talk about issues of gender," Varadi said. "One thing that was asked of me as a male member [of the committee] was, 'Is this relevant to men; do you think men would want to read this?' And I really hope that they do. This book is just as important for men, if not more important, because we need to be aware of the power we hold in our society and the ways we could support causes for equality."
Atwood left one final message for young people.
"Vote early, vote often. Consider the choices that you have," Atwood said in the interview. "Try to recognize when people are lying to you. It's not always easy, but it is possible, and there is such a thing as truth."