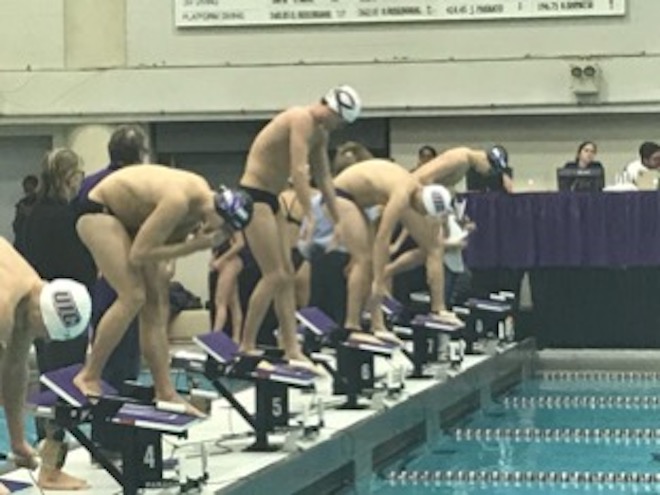 After season-opening losses against Michigan, the Northwestern men's and women's swimming and diving teams had a resounding rebound this weekend.
In an in-state, four-school meet at the Norris Aquatics Center, the Northwestern aquatic teams took on the University of Chicago, the University of Illinois at Chicago and the University of Illinois at Urbana-Champaign, and dominated them all. The men's team beat the Maroons and Flames (the Illini don't have a male squad) by scores of 204-76 and 198-95, respectively. The women took down Chicago 206-85, UIC 200-93, and U of I 190-105.
It's hard not to say good things about Northwestern's performance. The team finished first in 28 of the 32 total events, had sizable leads in many of them and often placed several Wildcats above the best opposing swimmer. The team's only rough spot was in the freestyle, where the Wildcats had losses in the women's 50, 100, and 200, and the men's 50 (though they would sweep the longer-distance and relay events).
"All of us raced as hard as we could," said first-year swimmer Andrew Zhang, who finished first in two relays and one solo event. "For right now, we're in the middle of training, so the only thing that we're really expecting all of us to do is just to kind of put in our best effort, which is what we're doing."
Wins all the way around for the 'Cats as both the men and women sweep their home opener!👏👏👏👏#B1GCatspic.twitter.com/IoLbpeM9Eo

— NorthwesternSwimDive (@NUSwimDive) October 27, 2018
Zhang wasn't the only swimmer to win multiple events. Other standouts included seniors Will Hofstadter and Olivia Rosendahl, sophomores Sophie Angus and Calypso Sheridan, and first-year Yohan Eskrick-Parkinson. More than half of the first-place finishers bested their times from when they faced Michigan.
"This was a meet where we knew we could have some fun here," Hofstadter said. "I was really happy, and I think it turned out pretty well."
With new director Jeremy Kipp, who will lead both the men's and women's teams, the Northwestern swimming and diving program is hoping to achieve big things.
"I think we have a completely different team culture this year," Angus said. "Everyone is really involved and motivated and wants to cheer everyone on, and now that our [men's and women's] teams are joined together, we have a lot bigger presence on deck I think, and it's really helpful when racing. You can hear everyone cheering for you."
"Throughout the season, we're just trying to take down some Big Ten teams," Hofstadter said. "That's something that we haven't been able to do in the last couple years, and I think we have one of the strongest teams that we've had in the last four, five years, so it's definitely something we can do."