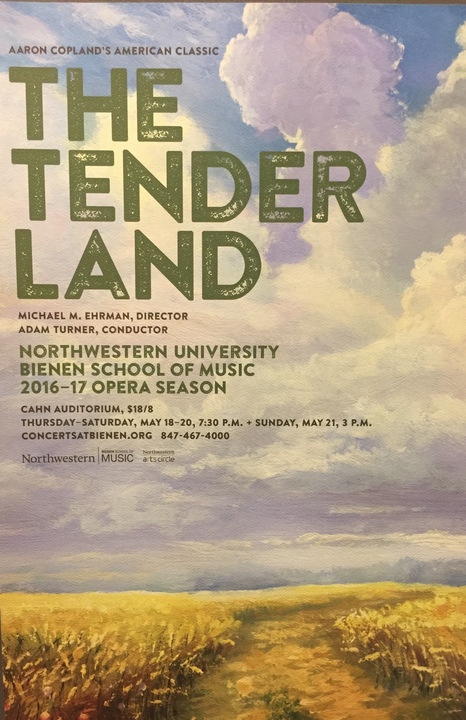 A story of romance, realization and a desire for independence in the Depression-era American heartland – it's not what you might expect when you think of the typical opera, but it's the perfect story for students who might be going through the same challenges themselves.
Diverging from the despondent drama of last quarter's Dialogues of the Carmelites, The Tender Land, running May 18-21 at Cahn Auditorium, provides audiences with the story of a young, Midwestern girl, Laurie. As she prepares to graduate high school, Laurie navigates quarrels with her protective mother and grandpa and her love for a traveling farm worker, Martin.
Drama lovers, don't worry: this show provides plenty, but it's mixed in with jovial celebration, exciting dancing and plenty of laughs. The variety of emotions on display throughout the show provide relatable aspects for all audience members, and stage manager Daniel Drake said students can find parallels in Laurie's unique story arc.
"[Laurie] chooses her own path," Drake said. "And that line runs parallel to what a lot of students feel as they go through graduation, and they discover, 'OK, what do I want to do now?' Or as an incoming freshman or sophomore, you go, 'Maybe I'm not enjoying major A as much as I expected to.'"
Bienen and Weinberg freshman Sarah Zieba, who plays the postman's wife Mrs. Splinters, agrees with this sentiment, and said the show holds an important lesson for young dreamers.
"I'd say the main message that I think [composer Aaron] Copland's trying to tell is that you shouldn't be afraid to go pursue your dreams," Zieba said. "Even if you feel like things are holding you back, you should not be afraid to pursue them, which is basically what Laurie does."
Laurie is anxious to graduate high school and be able to forge her own path. Act 2 takes place at her lively graduation party, which features something you don't usually see in an opera: dancing.
"It's definitely been more work than I anticipated, just because there's choreography in this opera, which is not very typical," Zieba said. "Some operas that have choreography have a backup chorus that doesn't do any dancing, they just sing, but we don't have that. So we have to really time things right to make sure we can be heard and the dancing looks good."
Even with this involved choreography, Drake said, the process has been very smooth, thanks to the talent of the team around him.
"The entire artistic team is just fantastic," Drake said. "I love working with the artistic teams here, especially this one. It's just been a very, very smooth process."
Drake said managing a show at a university is a unique experience because of the learning aspect, but that he, and the rest of the production team around him, treasures the chance to work with students.
"All of us here love working with the students and that's why we're doing educational theater and music and opera instead of out in the professional realm," Drake said. "We love mentoring, and we love facilitating that transition and essentially teaching the students what the professional realm is like and what the differences are."
Many students will be able to find parallels in the fiddling, foot-stomping fun of the opera, whether in the rapid story of love between Laurie and Martin, the parental oversight of Ma and Grandpa or the eternal hunger of Martin's friend Top.
"Laurie's mom wanted her to stay at home and stuff but she wanted to live her own life, and that's what she does," Zieba said. "I think it's a really valuable lesson that can be taken away from this."
The Tender Land plays May 18-20 at 7:30 p.m. and May 21 at 3 p.m. at Cahn Auditorium. Tickets are $8 for students.