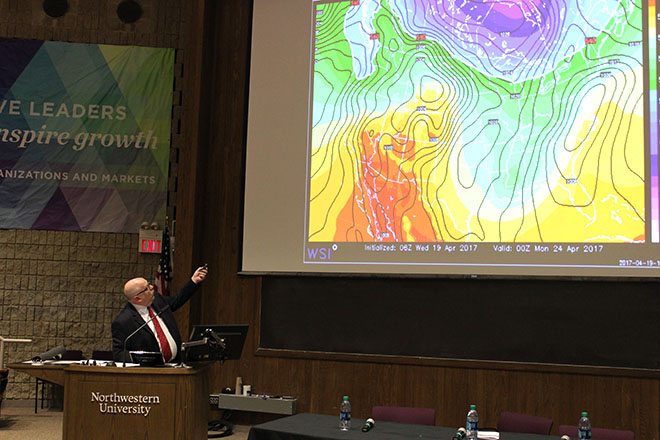 Two months ago, Northwestern students made their way to the lakefill to enjoy freak 70 degree mid-February days. Thursday night, One Book hosted three speakers who had an idea about why that happened and what it means for the future.
Meteorologist Tom Skilling, climate scientist Don Wuebbles and sustainability expert Karen Weigert convened in the Owen Coon Auditorium to relate their knowledge in weather, climate and policy, respectively, to Nate Silver's The Signal and the Noise and the rapidly warming world we live in today.
The program, sponsored by a number of campus groups including the Buffett Institute and the ASG Sustainability Committee, aimed to provide insight on what is going on in our weather, how that relates to broader climate trends and what policymakers are doing about it.
"We need to understand the science that's there," said Weigert, a senior fellow on global cities at the Chicago Council on Global Affairs. "And then we have to go do stuff."
Weigert put simply the predicament that the each speakers took on: how to combat and adapt to rapid climate change in an era of ignorance and misinformation. Both Skilling and Wuebbles expressed disappointment in the climate change chapter of The Signal and the Noise, which they said exaggerated the unpredictability of climate models.
Skilling, who has worked as a meteorologist at WGN-TV for nearly 40 years, said there are still uncertainties that long term models can't predict, "but by and large there's still some skill to be exhibited by this model."
Wuebbles, a professor of atmospheric science at the University of Illinois, added to the critique, saying that "[Silver] didn't understand the concept of what models are trying to do."
The models that the two talked about take data sets from observation points around the globe and combine them with past data to form predictions of future trends. Skilling and Wuebbles showed a number of these models to demonstrate how forecasts about weather and climate are made and what the future looks like.
Weigert brought in the perspective of policymakers, speaking on her experience working with Chicago mayor Rahm Emanuel as the city's first chief sustainability officer.
"Prevent what you can, and adapt to what you must," Weigert said, laying out her main guideline for her time working for the city.
Weigert described various city policies that led Chicago to a seven percent decrease in carbon emissions from 2010 to 2015, ranging from solar-powered Divvy bike docks to green roofs on downtown skyscrapers to the transition of the city's power completely away from coal and toward renewables.
"We made our city a better place to live," Weigert said.
After the three speakers presented their main points and areas of expertise, they answered questions from discussion moderator Daniel Horton, an assistant professor in the Department of Earth and Planetary Sciences, and the audience.
Questions included topics like the proliferation and deadliness of severe heat waves worldwide, the potential for echo chambers in climate science and the outlook for Lake Michigan as a safe water source for the Chicagoland region.
Speaking about the Chicago heat wave that killed over 700 people in 1995, Skilling said, "everything worked against us… people would die months after the heat had occurred."
Weigert demonstrated the city's response to the danger of these extreme weather phenomena by describing measures Chicago implemented, including a white roof requirement in all new construction that helps cool down buildings, tree planting in neighborhoods around the city and cooling centers to help residents in the midst of increasingly common summer heat waves.
All three speakers showed the need for broad support of climate research being done and implementation of policy to help adapt to current challenges and adapt to future ones. The important first step, Wuebbles said, is acknowledging the validity of the evidence at hand.
"There is no disagreement in the science," Wuebbles said.