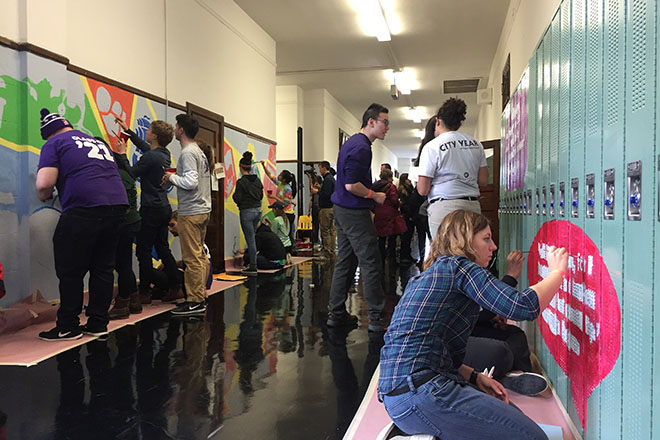 U.S. Senator Dick Durbin, in a blue button-down and tie, followed the command of the stretching leader in front of him, moving his hips front, side, back, side. He was getting ready for the day of work ahead.
Durbin was one of several political leaders to join in the action Monday at Gale Community Academy in Rogers Park, where 200 Northwestern students and staff worked together with hundreds of volunteers from across Chicago to renovate the K-8 school.
Volunteers did everything from mural painting to book organizing during the event, put together by City Year Chicago . The work focused on improving not only the functionality of the school, but also its aesthetics.
After the initial stretching and a variety of enthusiastic cheers ("How are you feeling?" "Fired up!"), community leaders and politicians gave a series of introductory speeches. Those to take the stage included school principal Augustine Emuwa (Principal Augie), Rep. Jan Schakowsky and Durbin. The speakers outlined how Dr. Martin Luther King Jr.'s legacy lives on today and the work that still needs to be done to create a more equitable and just society.
"I believe if Dr. Martin Luther King were here today, he would give a speech, and he would have four words in that speech: We are all dreamers," Durbin said, referencing his landmark DREAM Act, a bill that would allow undocumented immigrants that arrived in the U.S. as children to obtain permanent legal residency in the country. The senator went on to encourage people to come together in the fight for "liberty and justice for all."
After the opening ceremony, volunteers found their assigned project groups and got to work. Aided by project leaders from City Year, participants painted walls, refurbished chalkboards and organized library books.
Hillel Assistant Director Rachel Hillman enjoyed seeing such a wide variety of people take time out to help the community.
"What I appreciate about this project is that it's local," Hillman said. "There's so much work to be done locally in Evanston and Chicago that I appreciate that we could just hop on a school bus for a few minutes and get here."
After seeing members from his Pre-Orientation Program, Freshman Urban Program, volunteer at Gale, McCormick first-year Jonathan Frank was excited to help the school out. He enjoyed working to repaint and add whiteboard features to chalkboards in classrooms.
"The project that we were working on, I liked how functional it was," Frank said. "That's going to be used, probably tomorrow, and that's pretty cool."
On a holiday that would otherwise be used for sleeping in and catching up on homework, the day of service also provided inspiration. Remembering the man for whom the day is commemorated, Emuwa reflected on his favorite MLK speech, "What Is Your Life's Blueprint?"
"To live within one's purpose and to do all things in excellence," Emuwa said, "is what spurs the change that we all imagine."