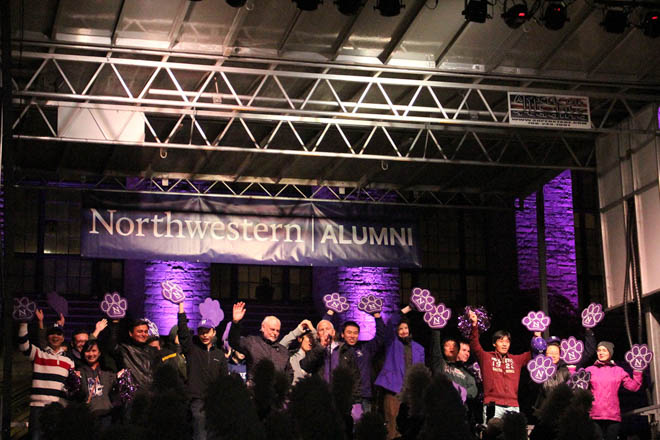 Northwestern head football coach Pat Fitzgerald captured the mood of the Friday night homecoming pep rally, speaking in front of hundreds of students, faculty and alumni who gathered on Deering Meadow after the homecoming parade made its way down Sheridan.
"If I were you, I'd party your rear end off."
The Northwestern University Marching Band (NUMB) kicked the parade off at Sheridan and Lincoln at 6 pm, playing "Go, U Northwestern" to the delight of the alumni lining the parade route, many of whom still remembered its lyrics, decades after graduating from Northwestern.
Following the band in the procession were the 2016 Nobel Prize winner in chemistry Sir Fraser Stoddart and his team; Morty, who donned a purple foam claw; and Grand Marshall George Newbern, known for his role as Charlie on ABC's hit drama Scandal.
Fraternities, sororities and residential colleges decorated bedsheets and pickup trucks, spreading enthusiasm on the parade route. Four high school marching bands kept the music going, along with NUMBalumni, a group of alumni who came together to recreate the marching band music which helped color their college years.
The parade wrapped up at the Arch, and spectators made their way to Deering Meadow. The marching band assembled in front of a stage, playing pop hits as the audience awaited speeches from Morty, Fitz and the crowning of the Homecoming King and Queen.
Pete Friedmann, the Voice of the Wildcat Marching Band, led things off with a short speech, telling the alumni, "this whole weekend is about you and your special time with this university."
Morty brought up Sir Fraser Stoddart and his team to celebrate his Nobel Prize, and encouraged students and alumni to attend the football game Saturday morning, saying, "students out there, set your alarm, or stay up late from tonight and don't say anything."
Friedmann then returned to the stage, introducing the homecoming court and welcoming George Newbern to the stage to talk about his Northwestern experience and crown the 2016 Homecoming King and Queen: SESP senior Evan Frost and psychology major and Weinberg senior Gauri Rangrass.
The night concluded with a rendition of the Alma Mater played by the marching band, leading many in the audience to lock arms and sway side-to-side, tears in their eyes as they sang.
For many alumni, returning to Northwestern is an emotional, nostalgic, and joyful experience. Dr. John Lipka returns to his Alma Mater every year for homecoming weekend, and has for the past 33 years since he graduated in 1983. Now a surgeon in Louisiana, Lipka remembers his time at Northwestern fondly, and sees what an amazing effect NU has on those who get to experience what it is like to be a Wildcat.
"Everyone you meet from Northwestern when you go on through life is happy, everyone you meet is gonna be nice," Lipka said. "I've never met anyone that's an unlikable person, and everyone is successful in their own way--everyone after they leave here does what they want to do and that's a nice opportunity."