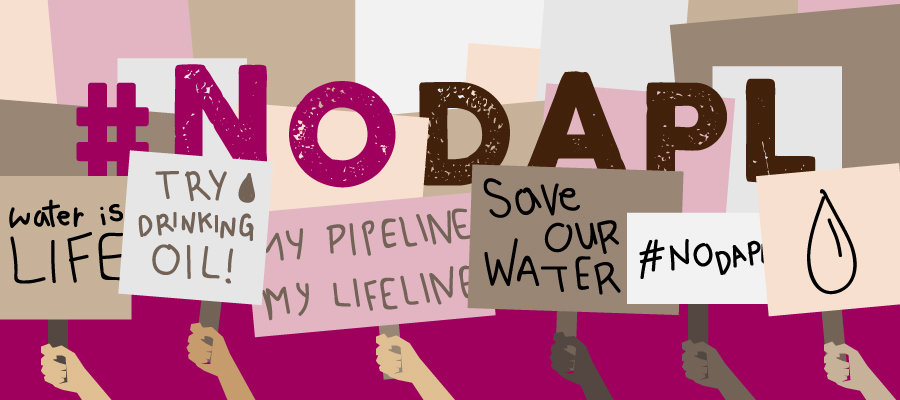 A panel discussion on indigenous organizing held special importance Tuesday, as it took place just a few hours after the U.S. Army cleared way for completion of the Dakota Access Pipeline (DAPL), an oil pipeline whose construction upstream from Lakota Sioux territory has been delayed by protestors.
The Buffett Institute hosted the panel discussion, titled "NoDAPL and the Future of Indigenous Organizing," at Harris Hall as a part of its Human Rights Speaker Series.
The discussion was moderated by Doug Kiel, a citizen of the Oneida Nation and assistant professor of history at Northwestern, and featured Al Eastman (Sicangu Lakota), manager of the archery program at the American Indian Center Chicago; Patty Loew (Ojibwe), a professor at the University of Wisconsin-Madison; Nick Estes (Kul Wicasa), a doctoral candidate at the University of New Mexico and Kristen Simmons (Paiute), a doctoral candidate at the University of Chicago.
Patrick Eccles, associate director of Global Engagement Programs at the Buffett Institute, introduced the panel and gave some background on the current state of the NoDAPL protests. Doug Kiel then took to the lectern to talk about Northwestern's contentious history with Native people, from NU founder John Evans' involvement in the Sand Creek Massacre to the campus being located on land once occupied by the Council of Three Fires Nations.
In reference to the Army clearance for DAPL, Kiel said, "it's a difficult day, so we're incredibly thankful that everyone is here," before calling the action against the pipeline "the most significant such movement in a generation."
Al Eastman was the first of the panelists to speak, and began by referencing his personal experiences in North Dakota.
"It was a beautiful thing out there," Eastman said, standing in front of a screen showing a slide with links to websites for charitable organizations helping aid in the fight against DAPL. "One of the main things [Native protestors] told me was, 'Go back to Chicago and make some noise, let 'em know what's happening out here.'"
Eastman also gave a list of banks that are helping provide loans for the pipeline, a list that notably included US Bank, Northwestern's on-campus bank, which he pointed out before displaying contact information for US Bank executives and urging audience members to reach out.
Next up was Patty Loew, who spoke about the challenges facing Ho Chunk, Menominee and Bad River Ojibwe people all across Wisconsin in the face of the opening of new mines and the deterioration of aging pipelines.
"This doesn't just affect Standing Rock – this is a line in the sand that is going to affect every indigenous community in North America," Loew said.
The UW-Madison professor is compiling a book containing 32 essays from indigenous writers spanning the globe, from Hawaii to Finland, on the topic of indigenous activism.
In front of a map showing the route of DAPL in relation to tribal lands, Nick Estes spoke about the history of the pipeline and what the presidency of Donald Trump may mean for the future of indigenous activism.
"Given the alarmist approach of this new administration, they rule by chaos and they rule by fear," Estes said.
Estes described the grounds on which the case against the pipeline can still be made: the fact that it runs through unceded treaty territory, a number of arrests made by federal and state authorities on tribal land and the Winters Doctrine, a 1908 Supreme Court case stating that tribes hold senior water rights over water flowing through their reservations.
Putting the movement into historical context, Estes spoke about past incidences of violence perpetrated by the U.S. military and government against Native peoples.
"[The conquest of Native lands] was incredibly violent, so it makes sense that this violence continues," Estes said, referencing the use of pepper spray, tear gas and water cannons by police against Water Protectors, as the DAPL protesters at Standing Rock are known. "This isn't anything new."
The final panel member, Kristen Simmons, also spoke about her experiences at Standing Rock and the challenges indigenous nations face as a result of "late industrialism," which comes in the form of mining and other natural resource extraction and exploitation.
"Indigenous nations have been living in a post-apocalyptic world for centuries now," Simmons said, elaborating on Estes' points about police tactics with the point that the use of chemical weapons is prohibited in international warfare but is legal in domestic police tactics.
The panel then took questions from Kiel and the audience, the first of which involved the reasons for the attention given to DAPL and how one can be a good ally.
Simply attending protest events can be eye-opening for non-Native people, Estes said, saying white Americans can step up "so it's not always brown bodies being pepper sprayed."
Loew related the current political environment to that of her childhood and teenage years in the 1960s, when protest movements were similarly springing up all across the country, and said that although current protest movements such as NoDAPL, Black Lives Matter and the Women's March focus on different issues, they share the same basic motivation.
"I've seen this before," Loew said. "We may have different priorities, but at our core, our core issues are social justice."
Speaking about the role of social media in organizing action and exposing injustice, Simmons talked about "building on multi generational coalition building," and said, "I think it's important for people to listen before jumping in."
Estes then turned to the idea of how to reform the country as a whole in responding to a question asking how we frame our present political movement, and if there is something historically different about the Trump era.
"A country founded on genocide and slavery is going to continue to be a country founded on genocide and slavery until we get a new system," Estes said.
The panel ended the event speaking to the power of the people, and providing an optimistic view on future activism.
"I ask people to be a part of the solution," Eastman said. "People have had enough – we're fed up and we're ready to stand up."
Synthetic Biology Postdoc Douglas Griffith attended the event as someone interested in environmental and police activism, and came out having learned that the state of American activism may not be as grim as it sometimes seems.
"It was interesting to hear that there's still such optimism, that there's still things to be done, and I think that's the hardest thing," Griffith said. "I've been involved in activism for a long time and it does come in waves, because you do get very frustrated at points, a bit burnt out, so it was nice to hear people that are still optimistic and still have ideas about what needs to be done."
Kiel is one of these optimists, especially as a result of a recent $1.5 million grant given to Weinberg to set up a new Indigenous research center, which he is helping create.
"It's really starting to generate a lot more excitement and student interest and I hope that continues to build," Kiel said, in reference to indigenous studies.
To round up the event, Loew used her knowledge of Japanese to provide what she said was an important bit of knowledge for the current political climate.
"The Kanji symbol for crisis is also the symbol for opportunity," Loew said.